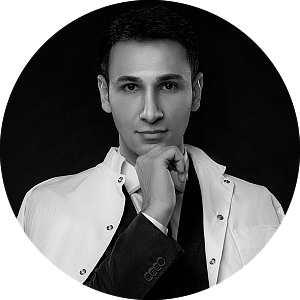 Salim Ragimov
CV
Specialization
Rhinoplasty, breast aesthetic surgery, liposuction, lipomodeling.
---
Education
2008—2014

A.I. Yevdokimov Moscow State University of Medicine and Dentistry – General Medicine.

2014—2015

Internship training – Department of General Surgery and Clinical Angiology of MGMSU (A.I. Yevdokimov Moscow State University of Medicine and Dentistry) under the authority of professor Dibirov M.D.

2015

Practical training, Department of Oral and Plastic Surgery of MGMSU under the authority of professor Drobyshev A.Yu.

2015—2016

Clinical professional development, Department of Plastic Surgery, People´s Friendship University of Russia under the authority of professor Pavlyuchenko L.L.
Procedures (2)
"Body Jet" Water-Jet Lipomodelling
With water lipomodelling Body Jet we can create a delicate waist while simultaneously lipofilling the buttocks, chest, or face. The recovery period is short and it's ideal if you're getting ready to get to the beach! The new second generation Body Jet is a device that not only removes the fat with the help of water, but at the same time "washes" the fatty tissue in a sterile container. This allows the surgeon to use the body fat for lipofilling without any lengthy preparation. Benefits of Body Jet Liposuction: The operation time literally last only up to 2 hours! Liposuction with the Body Jet machine is much less traumatic. It's performed under local anesthesia and does not require general anesthesia. The short length of time for the procedure and its minimal damage significantly reduce the time needed for rehabilitation. Body Jet Liposuction provides a beautiful uniformity of liposuction on the abdomen with no lumps or markings. But that's not all! This method allows us to not only get rid of excess fat. In one procedure, it can provide you with the desired shape of your hips and buttocks, increase the volume of your lips, allow facial lipofilling, or add natural volume to the breasts.
Rhinoplasty
It allows to get rid of the congenital or acquired nose defects which are transferred genetically or received as a result of any trauma. High-quality correction leads to create a new harmonious appearance, fixes the trouble breathing caused by deformation of the nasal septum, changes the nose shape according to the guest preferences and recommendations of the doctor.
Posts (0)
Videos (0)