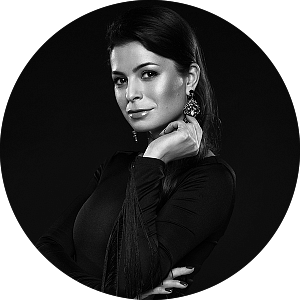 Elmira Baltacheeva
Dermatologist, Cosmetologist
CV
Specialization
Anti-aging Treatments, Skin Rehabilitation, Ozone Therapy, Mesotherapy, Contour Surgery, Non-surgical Liposuction, Laser Rejuvenation.
---
Education
Pirogov Russian National Research Medical University (RNRMU), General Medicine

Residency training in dermatology and medical cosmetics.

Residency training in leading dermatology clinics in France and Germany. Licenses and Certifications: Certificates of State Standard for Contouring, Mesotherapy, Hardware Cosmetology, Physiotherapy. Certificate in APTOS methods.
Procedures (3)
Laser Skin Rejuvenation
Effective renewal and rejuvenation of skin. The procedure will help to get rid of wrinkles, will improve skin texture, will tighten and will rejuvenise its elasticity.
Thread Lift
Face-lifting and bioreinforcing of facial tissues. Fast rehabilitation and instant result.
Contour Plastic Surgery
All types of contour plastic reconstruction. Non-surgical rejuvenation, restoration of face volume, wrinkle correction.
Posts (0)
Videos (0)